Harvest of Illusion
Harvest of Illusion: A Spiritual Adventure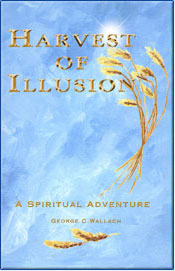 is best categorized as science fiction with a paranormal spiritual twist. Worked into this tale are characters located where we came from, characters located here and characters located where we're going when we leave. It's all woven into a tale of two very different types of aliens interacting with each other and with humans, plus two sensational women – one the most beautiful and the other the scrappiest, a charismatic and gutsy president, love and jealousy, three spiritual dimensions, mental manipulation of matter, UFO's, teleportation, crop circles, governments, fear of extermination, unusual military defensive weapons, the ecology of the universe, and much, much more. It's a modern, wild, funny, emotional and action-packed adventure couched in just the right amount of science fiction, the paranormal and fantasy for flavor. When it's over, you'll have new wonderings about the structure of the universe and the nature of existence.
Take a look at the Harvest of Illusion—Comments page on the left menu to see what readers think.

A science fiction novel with a unique paranormal spiritual twist.
Purchase from Amazon by clicking the links below:
Amazon United States
Amazon Canada
Amazon United Kingdom
Amazon Germany
Amazon France
Amazon Japan
In Australia or any other countries which have book stores that have the new Espresso Book Machine (EBM) on premises, they can print a copy of this book for you in a few minutes that is essentially identical to those sold online.

Kindle: This book will also be available on Amazon's Kindle Book Reader shortly.