Growing Up
Growing Up: Retro Nostalgia & Humor of the 1940's & 1950's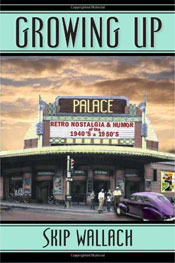 is a hilarious novel that chronicles the universal journey of growing up during the Golden Age of Innocence in a series of short, easy-reading chapters based on the embellished life of the author's alter ego, "Chip." Whether you grew up during the 1940's, 1950's, early '60's or later, and are from the Silent Generation, the Greatest Generation, a Baby Boomer, Gen X, Gen Y, or a 30-something, 20-something, young adult or teenager who wants to experience a wonderful, simpler time, this is an "every person" book which relates to the benchmark moments of our lives – our struggle for identity, first dates, friends, sweethearts, siblings, parents, teachers, learning responsibilities, cars, motorcycles, music, radio and television. From childhood and grammar school during World War II (including the role of women in the Second World War) in the '40's, to high school and college (including fraternities) in the '50's, and a peacetime army in the early '60's.

This is your opportunity to take a step back in time and rekindle your own nostalgic memories as you find yourself "Growing Up" again. Any age or gender from "tweens" up to great grandfathers, and everyone in between, will love this book. It tells of a wonderful period and set of values for those who weren't there, and floods you with wonderful memories if you were – all in a funny and very enjoyable way.

Just take a look at the Growing Up–Comments page on the left menu to see what the readers think.
Purchase from Amazon by clicking the links below:
Amazon United States
Amazon Canada
Amazon United Kingdom
Amazon Germany
Amazon France
Amazon Japan
In Australia or any other countries which have book stores that have the new Espresso Book Machine (EBM) on premises, they can print a copy of this book for you in a few minutes that is essentially identical to those sold online.

Kindle: Growing Up is also available on Amazon's Kindle Book Reader at this link: Amazon Kindle , and then please click on the Growing Up book cover that appears.