Growing Up TidBits
Gumby
          Created in the early 1950's by the late animator Art Clokey while he was a student at the University of Southern California, Gumby, that flexible green clay, bell-bottom-legged pop-culture character icon, who always looked like a walking, talking eraser to me, was actually based on the Gingerbread Man, but with a pointy side to his head, the latter purloined by Clokey from his father's weird hairstyle featuring a giant cowlick-like pompadour on half his head, the other half combed normally.
          Gumby rose and fell in popularity over the years and was gradually surrounded by a cast of animated clay characters including his brown talking horse Pokey, his dog Nopey and the annoying, mischief-making Blockheads. Every kid who ever had a Gumby bent him into every position you could possibly imagine, and if he was used for an eraser, it was always the pointy half of his head that went first.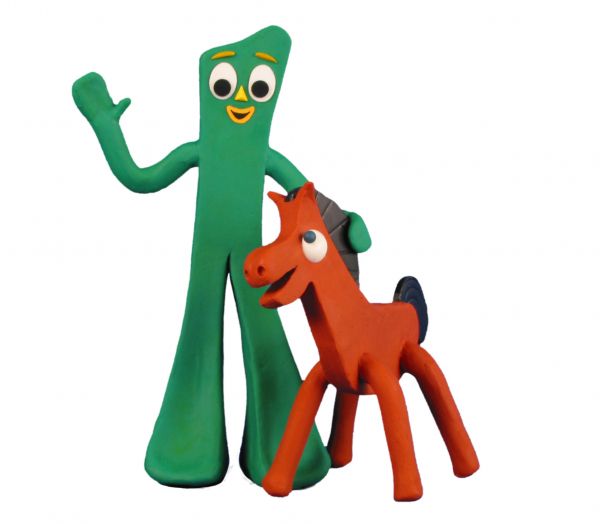 Iwo Jima – Raising the American Flag on Mount Suribachi
          Five Marines and a Navy corpsman are in the famous World War II Pulitzer Prize winning photograph (taken by the Associated Press photographer Joe Rosenthal) of the American flag being raised on top of Mount Suribachi during the battle for the Pacific Ocean island of Iwo Jima on February 23, 1945.
          They were Franklin Sousley, Harlan Block, Michael Strank, Rene Gagnon, John Bradley and Ira Hayes. The first three were killed in action on Iwo Jima within a month of that photograph.
          The remaining three survived and became instant celebrities upon discovery of their identities. Rene Gagnon initially welcomed it, but by the time he passed at age 54 in 1979 he is reputed to have been drinking heavily and bitter over not having attained better employment and wealth as a result of his notoriety.
          John Bradley lived to age 70 (1994), had eight children, a successful business and engaged in many civic activities, but primarily shunned publicity as he was haunted by memories of combat and also felt he "just happened to be there" in connection with the flag going up.
          Pima Native-American Ira Hayes, born in Arizona and a member of the Gila River Indian Community, may have received the most publicity because he was Native American. He did not want it and unsuccessfully tried to lead a normal life, but was ultimately consumed by alcoholism and his memories of combat. He was found dead at the age of 32 in 1955, close to his home on the Gila River Indian Reservation.
          Hayes, Gagnon and Strank are buried in Arlington National Cemetery. Bradley, Block and Sousley are interred in their home states.
          Interestingly, that was the second raising of the flag on Mount Suribachi. A  smaller flag had been raised earlier and the commander then gave orders to raise a much larger flag so the enemy could easily see it. Of course, that was not the end of the battle and some of the fiercest fighting of the war took place on Iwo Jima.